Thank you to the Sunshine Club for putting together a much appreciated Hot Chocolate Bar for the staff on this surprise late start. And a big thank you to everyone in the community who donated food and items for this. We couldn't be any luckier to work at a great school in an awesome community!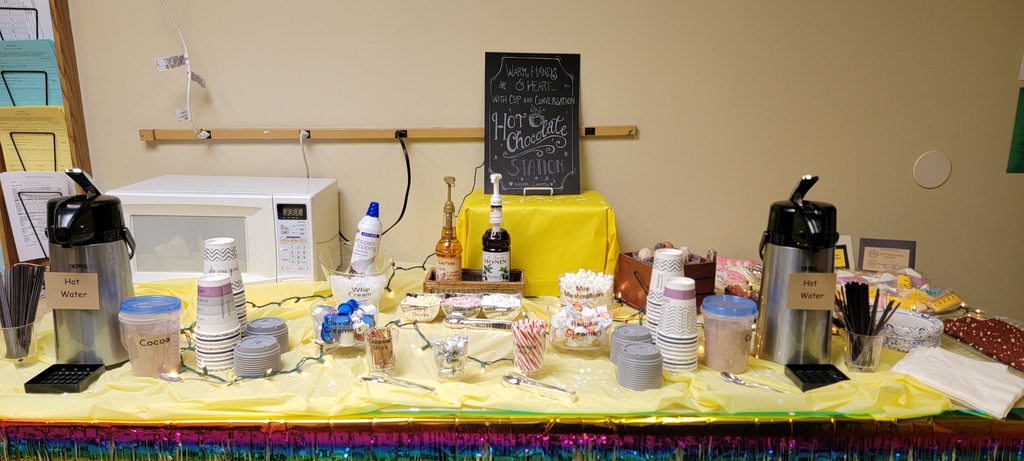 All schools in RSU 12 will have a two-hour delay this morning, Tuesday, January 31st.

WHITEFIELD SCHOOL PTA has decided to hold a Read-a-thon this year! Read-a-thons actually get your reader excited about reading and it gives friends and family the opportunity to encourage your child to read even more. Our Read-a-thon starts Monday February 13, 2023. About one week before our Read-a-thon starts we will send home instructions on how to activate your reader's personal page. This is where you will be able to view and record their progress. We encourage you to activate your reader's account today by clicking on
https://www.read-a-thon.com/readers/r/HjEEHN/1
and following the simple instructions. We've chosen Read-a-thon because it will not take much of your time, gives your child a reason to read and helps in the development of stronger reading skills. We hope EVERYONE participates. Thanks so much, WHITEFIELD SCHOOL PTA

Unfortunately, road conditions are not improving. The rain is icing on the roads and there is flooding where drains are blocked. All schools in RSU 12 are now closed today, January 26, 2023.

All schools in RSU 12 will have a two-hour delay today, Thursday, January 26th.

Due to the middle school field trip ending sooner than we expected, we are canceling the three bus run. We are back on for a normal Wednesday early release four bus run. If your child is in 6th or 7th grade, they will be going home at normal time on their normal bus.

This is a reminder that we will be conducting a 3 bus run tomorrow afternoon ( 1/25/23). Drop off times may vary from normal drop off times. If this is a possible inconvenience for you we suggest that you arrange to pick up your child at the end of the school day. If you have any questions, you can call the school during normal business hours. We thank you in advance for your understanding, cooperation and patience on 3 bus run days.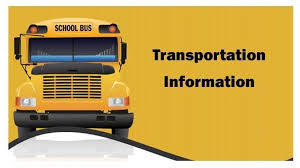 Due to the forecast of heavy snow tomorrow, all schools in RSU 12 will be closed tomorrow, Monday, January 23rd.

Due to the snowstorm, all schools in RSU 12 will be closed today, Friday, January 20th.


Due to circumstances beyond our control we will be conducting a 3 bus run on Friday, January 20th for both morning and afternoon runs. In the morning this will only affect students who ride Mr Cote's bus #20A ( Hilton and Heath Road, River Road, Head Tide Road and lower parts of Wiscasset Road) . Students who ride his bus will be picked up after the other buses have dropped their students off at the school. This will mean that they will not be picked up until after 7:50am. For the afternoon all students' drop off times could be affected, especially those who ride Mr. Kelley's bus ( bus 41) and Mr Bronn's bus ( bus 44). Mr. Davis' bus ( bus 19) will be running about 10 minutes behind. If this causes any inconvenience or concern we encourage students to be dropped off and picked up on this day. Other dates that we know will be a 3 bus run, both morning and afternoon, are 1/25/23, 2/13/23 and 2/14/23. We apologize for any inconvenience this may cause and we thank you in advance for your understanding and cooperation. If you have any questions​ or concerns​, please call the ​front ​office.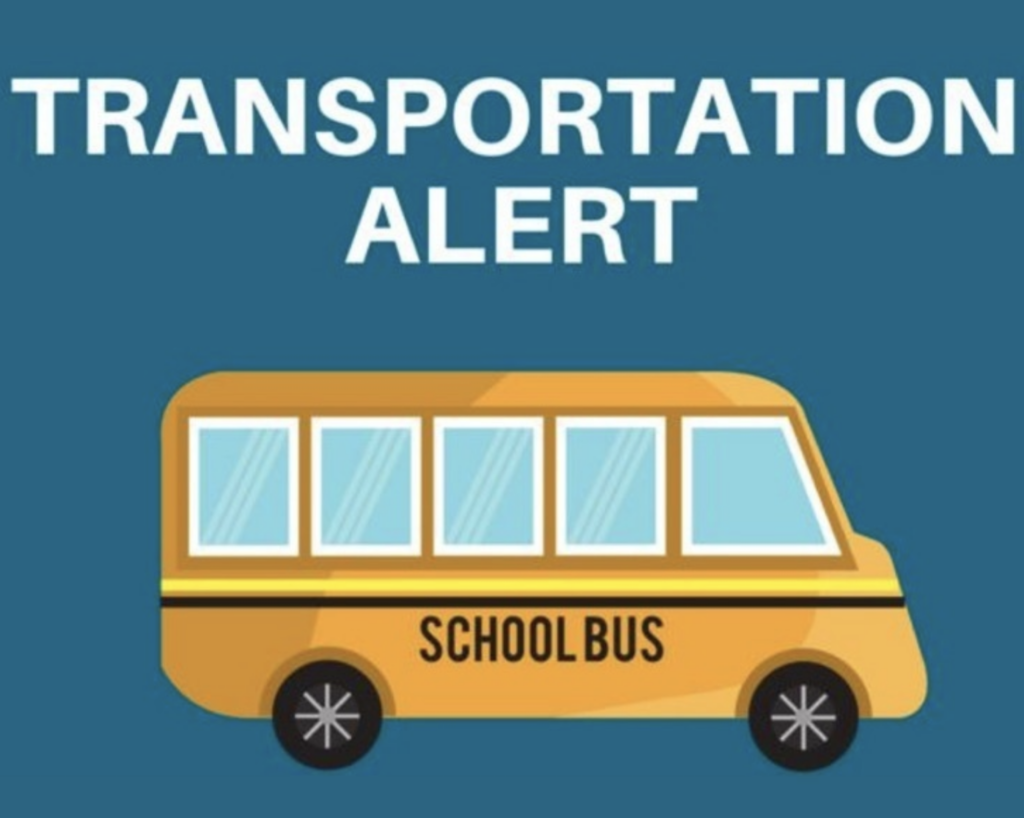 All schools in RSU 12 will have a two-hour delay this morning, Tuesday, January 17th, due to the icy road conditions.

Join the PTA tonight for their monthly meeting and find out how you can be involved and help out. Topic: Whitefield School PTA monthly meeting Time: Jan 11, 2023 07:30 PM Eastern Time (US and Canada) Join Zoom Meeting
https://us04web.zoom.us/j/77953052881
... Meeting ID: 779 5305 2881 Passcode: WHESPTA

All schools in RSU 12 will have a two-hour delay this morning, Thursday, January 5th.

January's Breakfast and Lunch Menu: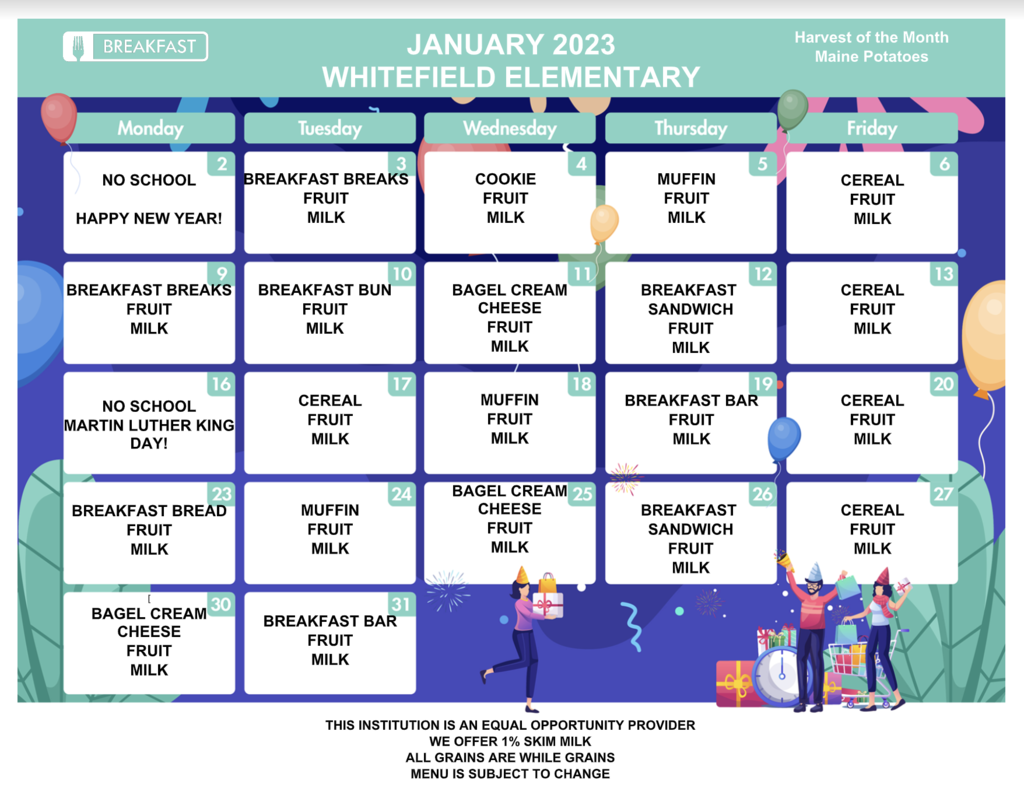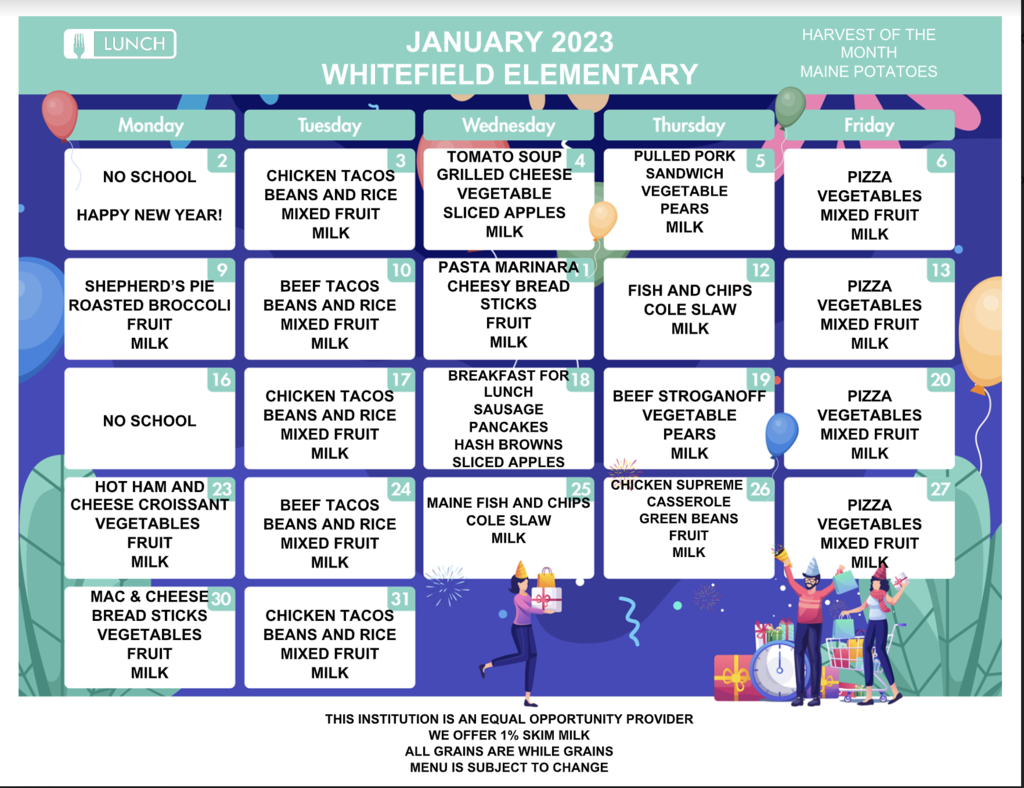 This is a reminder that the lost and found gets cleaned out during vacations. All items left during Christmas break will donated. Please encourage your children to look in the lost and found for misplaced belongings this week.

Due to the impending storm, all schools in RSU 12 will release at 11:30 am today, Friday, December 16th.

To: WHES Parents/Guardians of Students in Grades 3-8 From: Meagan Bowdoin, WHES Student Support Specialist Every year district-wide we look for student feedback on school climate. The school climate survey is designed to provide us with information regarding how students feel about their school. The School Climate Survey: Elementary issued for grades 3-6/ Secondary Level Survey for grades 7-8, is an anonymous survey used to identify school climate issues within our school. The survey for elementary school students includes 11 questions/9 questions for secondary and should take no more than 10–15 minutes to complete. The survey is anonymous, but parents/guardians should be given the option to opt-out if desired. The data collected from the survey will be used to identify student perceptions of school climate issues within our school. School staff use the results to inform our efforts at improving our school climate. Responses are housed securely in an anonymous format with the University of Oregon Technical Assistance Center projects for evaluation research purposes. If you do not wish for your child to participate in this important activity or want a copy of the survey, please email Meagan Bowdoin @
mbowdoin@svrsu.org
.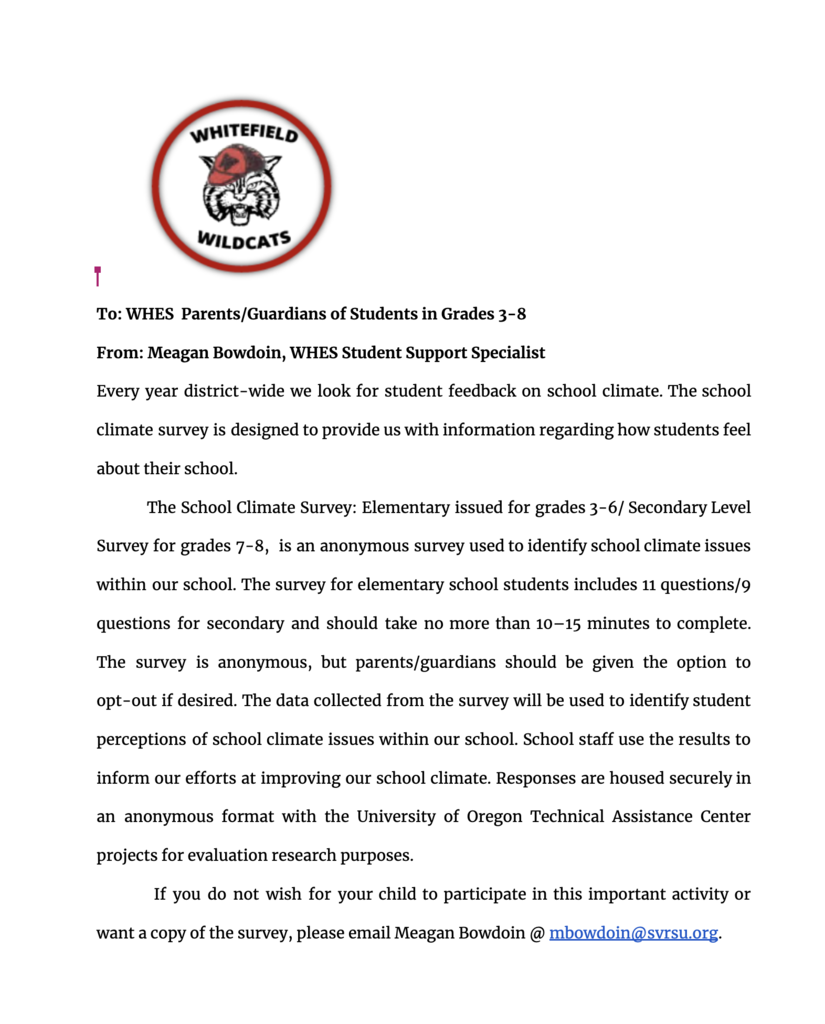 Reminder: Picture retakes are on Friday, December 9th.