RSU 12 PROPOSED BUDGET FISCAL YEAR 2023
The RSU 12 school district budget has been recommended by the RSU 12 Board of Directors for the school year 2022-2023. The board officially approved and recommended the budget to the citizens of RSU 12 on April 14, 2022. There will be an RSU 12 District Budget Meeting on May 25, 2022, at Chelsea Elementary School at 6:30 pm. RSU 12 citizens will have an opportunity to hear about the budget and approve the budget by cost center. See more information below.
Fiscal Year 2023 Budget Information
The proposed RSU 12 2022-2023 Budget has a local increase of 2.5% overall. Below is a chart of how each town is impacted based on the RSU 12 student count and subsidy informed cost-sharing formula.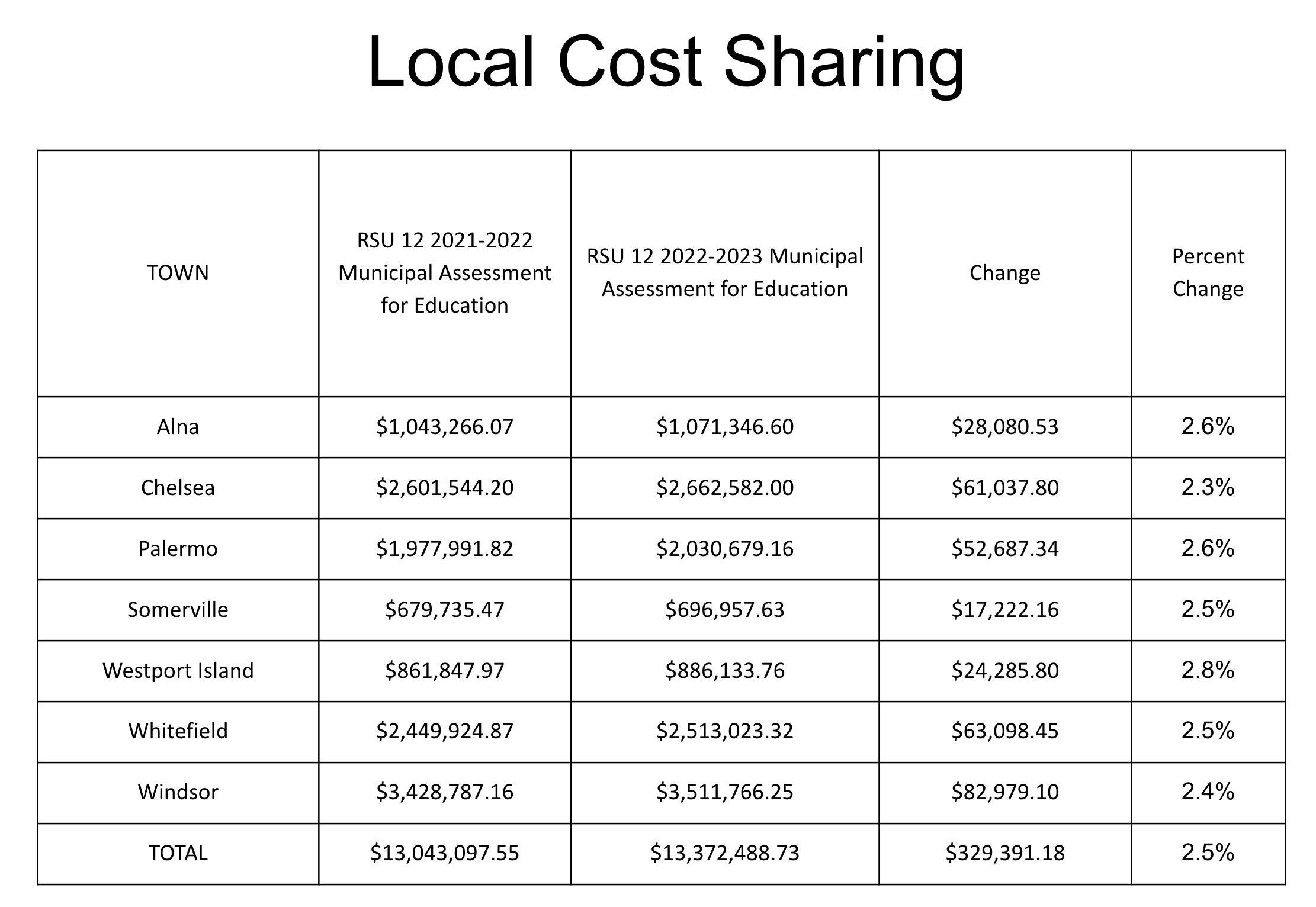 Please find below the slideshow presentation the Superintendent and the Finance Committee presented to the public recently.
You can find a full-screen presentation here.
Please find downloadable budget information at the links below:
Public Meetings
The Finance Committee and the Superintendent held a series of public budget meetings in order to present the draft school budget and collect questions and input about the budget from RSU 12 citizens. These meetings were held at town Selectboard meetings according to the following schedule below. Thank you to all members of the public who attended. The last public meeting will be held on May 25th at Chelsea Elementary School Gym, 6:30 pm.
Past meetings
Westport Island - 3/7 @ 7 pm (in person @ Westport Town Office)

Whitefield - 3/15 @ 6 pm (in person @ Whitefield Town Office)

Somerville - 3/16 @ 6 pm (in person @ Somerville Elementary School)

Chelsea - 3/23 @ 6:30 pm (in person @ Chelsea School Cafeteria & Zoom)

Windsor - 3/29 @ 6 pm (in person @ Windsor Town Office)

Alna - 3/30 @ 6 pm (in person & Zoom @ Alna Town Office)

Palermo - 4/7 @ 5:30 pm (in person @ Palermo Town Office & Zoom)
Budget Presentations and Discussion also took place at the public RSU 12 Board of Director's Meeting 2/10, 3/10, and 4/14. These meetings can be viewed here, Video of RSU 12 Board of Director's Meetings.